Postpartum Care
Taking Care of Yourself and Your Baby
Giving birth is a beautiful, natural process, but it can also take quite a toll on your body. Thankfully, there are plenty of tips and products out there designed to make your recovery easier. Here is what nurses and experienced moms everywhere recommend.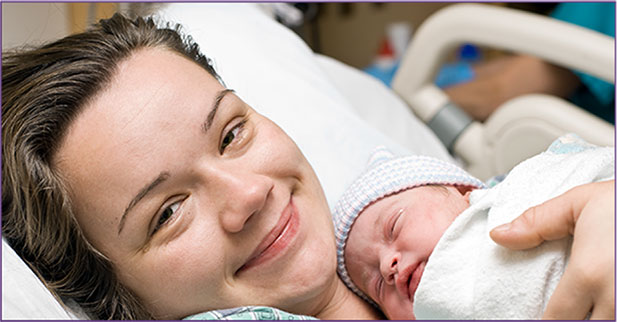 Pain Reduction

Find out if your hospital offers special ice packs to new mothers, and if they don't, make your own. They are bulky, but they will help. Dermoplast pain spray helps immensely too. Line your sanitary napkin with a witch hazel pad to ease the itchiness of any stitches. Recline or lay down rather than sitting straight up. It is normal to feel contraction, similar in pain to menstrual cramps, after birth. These tend to worsen with every successive pregnancy.

For the Bleeding

You will bleed for several weeks after birth. Either wear the underwear the hospital provides or your own underwear you don't care about with a giant pad. Some women opt for adult diapers. Your bleeding should gradually slow and turn from bright red to brown. Call your doctor right away if you soak a pad within an hour, you pass clots larger than a golf ball or your vaginal discharge smells foul.

For Your Breasts

Your milk probably won't come in for a day or two after birth. If your breasts are painfully full, you may pump or feed a little for relief, but be careful not to overdo it as your body produces milk on a supply -and­-demand basis.

It is normal for breastfeeding to hurt at first. Make sure baby is latched on correctly and use Lanolin cream to help with any cracking or bleeding. Alternate which side you feed on and wear nursing pads to catch any leaking, especially at first.

If you are not planning on breastfeeding, wear a compression bra and do not pump. Cold washcloths can help with the pain.

Using the Bathroom

Use a squirt bottle when you urinate for the first few days to relieve the stinging. If you find yourself leaking small amounts of urine throughout the day, doing Kegels can help. If you have hemorrhoids, witch hazel pads can soothe them. If your stools are hard and painful, be sure to drink plenty of water and consume enough fruits and vegetables. Your doctor may also recommend a stool softener. You may find it helpful to take a sitz bath afterwards.

Other

Rest as much as possible, and don't be afraid to ask for help. Do not drive or carry anything over 10 pounds for a week. Realize that mood swings are normal, but if you are worried you have postpartum depression, talk to your doctor right away. Worry about taking care of yourself and your baby before you worry about weight loss.

After about six weeks, you'll check in with your healthcare provider. This is the time to discuss any symptoms still troubling you and look at your progress so far. All in all, take things at your own pace, and try to enjoy these first precious weeks after your delivery!
Instructions & Activity
Pelvic rest for 6 weeks. (No douching, tampons, or sexual intercourse.)
No vigorous exercise for 6 weeks.
If you have had a C-section, no heavy lifting greater than 10 lbs. For 6 weeks.
No driving for 1-2 weeks (if you have had a C-section) or while taking any Percocet.
If you have had a 4th degree tear, nothing in the rectum (suppositories, etc.) for 6 weeks.
Use a stool softener for 2-3 weeks after your delivery, such as Colace (which is sold over the counter)
For C-section patients, keep your incision clean and dry. Let the water/soap run down on the incision in the shower. Do not apply soap on a towel and directly scrub your incision. Do not apply any creams/lotions/Neosporin to your incision. Your steri-strips may fall off on their own, otherwise we will inspect and/ or remove them at your 1-2 week appointment.
Follow-Up Appointment
In six weeks for a vaginal delivery, unless otherwise specified at the time of discharge.
In 1-2 weeks, if you had a C-section, for an incision check. You will then have another appointment 4 weeks later for your 6 week post partum exam.
When to call the office
Signs of mastitis including: reddened, hard, and exquisitely tender areas to the breast accompanied by a fever greater than 100.4.
Excessive vaginal bleeding greater than 1 soaked pad per hour. (You will have vaginal bleeding for 4-6 weeks after delivery. This may slightly increase 2-3 weeks after delivery, but will then taper off.)
An extremely tender abdomen accompanied by a fever greater than 100.4.
Any signs or symptoms of postpartum depression.
For Cesarean – section patients

~ Any opening of your incision.
~Any drainage from your incision.
Medications
Percocet, 1-2 tablets every 4-6 hours as needed for pain.
Ibuprofen 600 mg every 6 hours as needed for pain.
For constipation: Colace, Milk of Magnesia
Continue your prenatal vitamins as long as you are breast feeding or for 30 days after delivery.
For hemorrhoids, use Tucks pads, Preparation H, Proctofoam as needed.
For cracked/sore nipples you may use Lanolin cream.
Postpartum Depression
Considering the many chemical changes that happen before, during and after childbirth, it really should come as no surprise that many pregnant women and new mothers experience confusing mood swings. While this is normal, there does come a point when the sadness has lasted long enough and been severe enough to cause concern.
What Sets Postpartum Depression Apart?

It is completely normal for new mothers to have mood swings, sadness, irritability, trouble sleeping and anxiety -­ some people call these the "baby blues." However, when a new mother's symptoms go on to include severe mood swings, withdrawal from friends and family, fatigue, intense anger and a lack of interest in life, something more serious may be the cause: postpartum depression. Postpartum depression can even cause thoughts about hurting yourself or your baby.

Postpartum depression affects 10­-15% of women every year, making it a very common condition. Postpartum depression isn't the mother's fault, but she and her family may suffer if she doesn't receive the treatment she needs.

If you begin to see things that aren't there or feel confused and paranoid, you may be suffering from a more rare and severe postpartum psychological disorder, and should contact a doctor immediately.

Causes of Postpartum Depression

No one is 100 percent sure what causes some women to get postpartum depression while others slide into motherhood blissfully. However, doctors think that the condition can be worsened by:

Hormonal changes
Lack of sleep
Anxiety
Lifestyle changes while caring for a newborn
Genetic predisposition

Women who have a history of depression, who are undergoing a stressful period, who lack a strong support systems, or whose pregnancy was unintended are at an increased risk, though postpartum depression can happen to anyone.

If you think you may be suffering from postpartum depression, you aren't alone, and there is hope. Call your doctor if your symptoms don't lessen within two weeks, if they are getting worse, or if you are having a difficult time doing routine tasks and caring for yourself and your baby. Call your doctor immediately if you are thinking about harming yourself or your baby.

Treatment

Treatments for postpartum depression range the gamut from counseling and talk therapy to medications such as antidepressants. Your doctor may also recommend simple lifestyle changes to improve your symptoms, but, make no mistake, postpartum depression must be treated by a doctor.

Postpartum depression is a serious condition that can last for months or even years if not treated. There is nothing to be embarrassed about. If you think you may be experiencing symptoms such as those listed above, call your OB/GYN today.